The Green New Deal has sparked a national dialogue on global warming at a time when the polls show that voters on both sides of the aisle are increasingly concerned about climate change based on their own experiences and the work of mainstream climate scientists.
Announcement of the GND Resolution (H. Res. 109) by Congresswoman Ocasio-Cortez and Senator Ed Markey, along with surrounding events, are proving to be missteps that have allowed Trumplicans to reframe the debate from the causes, consequences, and solutions to the Democrats trying to establish a socialist state with the Green New Deal as its manifesto.
Congressional Democrats need to recapture the high ground by keeping the dialogue on climate—not by defending themselves against trumped-up claims and charges.

Climate defenders are finally getting our wish; climate change is on the front pages of newspapers and the lips of politicians of both parties. Social media is lit up with the talk of climate, and even late-night talk show hosts have gotten in on the act. This

is

what we've been waiting for--

isn't it?

The principal catalyst for this sudden turn-around in climate chatter is the Green New Deal (GND) that was proposed by Representative Alexandria Ocasio-Cortez (D-NY) in her successful Congressional bid. Since the Democrats have taken control of the House, the GND concept has gone viral and with it has come the demand for more specifics.

Responding to the call, Ocasio-Cortez (AOC) and Senator Ed Markey (D-MA) put pen to paper and drafted House Resolution 109 (

H. Res. 109

)

Recognizing the duty of the Federal Government to create a Green New Deal

. The Resolution, currently sponsored by 68 Democratic representatives, is only a placeholder for legislation that's to be introduced months into the future. The Resolution has no legislative meaning and is non-binding. Release of the Resolution at a press event outside the Capitol has set-off a maelstrom of comments and criticisms across the climate defender-denier landscape.

​

I worry the announcement of H. Res. 109 and the events surrounding it—before and after—may end up doing more harm than good to the prospects of comprehensive climate legislation over the next 18 to 24 months. I understand the need for a rapid and broad-based response to Earth's warming. I support a just transition. I agree that combatting climate change must occur on multiple fronts. In fact, there are few GND goals and objectives with which I disagree.
Powered by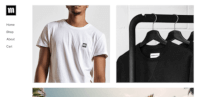 Create your own unique website with customizable templates.